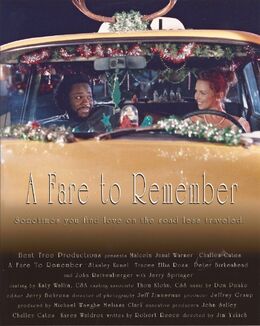 Story
A high powered business executive takes on an assignment on Christmas Eve, knowing she is to get married immediately after the holiday.
Upon arriving at the Seattle airport, she discovered all flights are canceled and she has to get to LA. She then hires an obnoxious cabbie to transport her to LA. However, the cabbie eventually proves to be rather endearing while she maintains her upper class posturing.
Cast
Malcolm-Jamal Warner as Winter
Challen Cates as Tamara
Stanley Kamel as Mr. Gault
Barbara Sammeth as Mrs. Gault
Peter Birkenhead as Steven
John Ratzenberger as Mickey
K Callan as Ginny
Tracee Ellis Ross as Jane
Mark DeCarlo as Jack
Jerry Springer as Mr. Bentree
Ad blocker interference detected!
Wikia is a free-to-use site that makes money from advertising. We have a modified experience for viewers using ad blockers

Wikia is not accessible if you've made further modifications. Remove the custom ad blocker rule(s) and the page will load as expected.