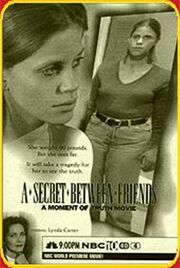 Story
Originally aired on NBC, the film centers on two friends, Lexi and Jen, who develop bulimia.
Cast
Lynda Carter as Kathryn Archer
Katie Wright as Lexi Archer
Marley Shelton as Jennifer "Jen" Harnsberger
Josh Taylor as Peter Archer
Kimberley Warnat as Jill Archer
Malcolm Stewart as Mr. Harnsberger
Kevin McNulty as Ted
Ryan Reynolds as Ben Colson
Tobias Mehler as Justin Phelps
Ad blocker interference detected!
Wikia is a free-to-use site that makes money from advertising. We have a modified experience for viewers using ad blockers

Wikia is not accessible if you've made further modifications. Remove the custom ad blocker rule(s) and the page will load as expected.