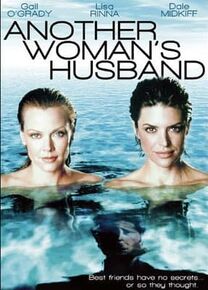 Story
Charming ladies man Johnny Miller (Dale Midkiff) is bored with his still committed wife, swimming instructor Susan (Gail O'Grady).
Under the "bachelor" alias Jake Miller, he develops a relationship with psychologist Laurel McArthur (Lisa Renna), who has aquaphobia ever since she witnessed her brother drowning 25 years ago.
When Laurel joins Susan's class in Atlanta, the women bond intimately and discover they have him in common.
Cast
Lisa Rinna as Laurel McArthur
Gail O'Grady as Susan Miller
Dale Midkiff as Johnny Miller\Jake
Sally Kirkland as Roxie
Charlotte Rae as Stella
Bob Larkin as Harvey
Amzie Strickland as Annette
Carroll Baker as Laurel's mother
Andre Carthen as Tom
JoNell Kennedy as Bets
Donna Hanover as Psychologist
Ad blocker interference detected!
Wikia is a free-to-use site that makes money from advertising. We have a modified experience for viewers using ad blockers

Wikia is not accessible if you've made further modifications. Remove the custom ad blocker rule(s) and the page will load as expected.