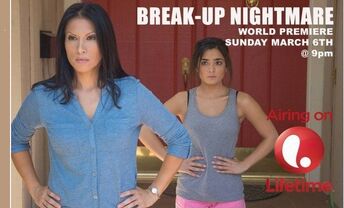 Story
When Barbara Light learns that nude photos of her daughter Rachel have been put on a revenge porn website, she tries to get them taken down, but when the site's administrator and his follows refuse to do so and Barbara refuses to back off, they threaten the lives of herself and Rachel.
Cast
Jennifer Dorogi as Barbara Light
Celesta DeAstis as Rachel Light
Freeman Lyon as Ryan
Mark Grossman as Troy
Joel Berti as Elias Light
Nicola Lambo as Carole
Tanya Lynne Lee as Officer Sampson
Julee Song as Sherry
Amy Lindsay as Daneen
Jude Lanston as Father Thomas Renly
Ad blocker interference detected!
Wikia is a free-to-use site that makes money from advertising. We have a modified experience for viewers using ad blockers

Wikia is not accessible if you've made further modifications. Remove the custom ad blocker rule(s) and the page will load as expected.