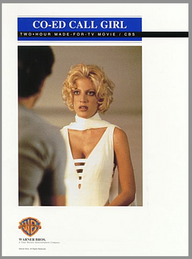 Story
Thanks to a roommate's practical joke, college student Joanna Halbert (Tori Spelling) finds herself signed up with a Malibu-based escort service. Her initial annoyance turns to curiosity when she visits the boss's beach house and soon becomes by the seemingly glamorous lifestyle of working as a high-class escort.
However, Joanna realises that glitz and money go hand in hand with exploitation & sleaze and it may be too late to get out.
The film originally aired on CBS in 1996.
Cast
Tori Spelling as Joanna Halbert
Susan Blakely as Teri Halbert
Scott Plank as Ron Tamblin
Carmen Argenziano as Henry Binder
Jeri Ryan as Kimberly
Barry Watson as Jack Collins
Ashlee Levitch as Amanda
Charles Grant as Andrew Carlson
Siena Goines as Jody
Chad Morgan as Tracy
Sydney Bennett as Lynne
John E. Goetz as Robert
Al Sapienza as Darren Brunson
Ad blocker interference detected!
Wikia is a free-to-use site that makes money from advertising. We have a modified experience for viewers using ad blockers

Wikia is not accessible if you've made further modifications. Remove the custom ad blocker rule(s) and the page will load as expected.