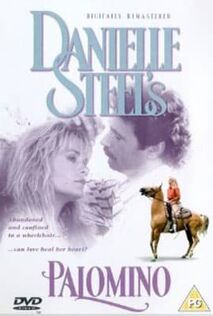 Story
After the break up of her marriage, photographer Samantha Taylor (Lindsay Frost) retreats to the sanctuary of friend Caroline Lord (Eva Marie Saint)'s California ranch.
An excellent rider, Samantha is initially given a frosty welcome by the ranch hands, but she begins to gain their respect as they see that she is more than able on a horse and in their environment.
Samantha falls in love with ranch hand Tate Jordan and they share a deep and passionate love until Tate finds out that Samantha's ex-husband is popular and wealthy news anchor Warren Taylor.
Ashamed by his profession and his "status", he leaves the ranch. Heartbroken once again, Samantha tries to assuage her pain by embarking on a project photographing the 'real' cowboys of the west.
Whilst visiting a ranch in California, Samantha breaks her back in an accident and is paralysed, and must learn how to walk (and ride) again.
Caroline Lord tragically, dies but leaves her ranch to Samantha, who turns it into a riding school for paralysed children.
Through this enterprise, she begins to heal from the pain of Tate's desertion, the loss of her friend and her own paralysis. Tate returns to the ranch after hearing of Caroline's death and finds Samantha there.
Can they both overcome their own demons and learn to love each other again?
Cast
Lindsay Frost as Samantha Taylor
Eva Marie Saint as Caroline Lord
Rod Taylor as Bill King
Beau Gravitte as Charlie
Michael Green as Josh
Daniel Davis as Doctor
Ryan Todd as Timmie
Peter Bergman as Warren Taylor
Lee Horsley as Tate Jordan
Rose Portillo as Donna
Kelly Miracco as Liz Corey
Blake Conway as Mike Holly
Ad blocker interference detected!
Wikia is a free-to-use site that makes money from advertising. We have a modified experience for viewers using ad blockers

Wikia is not accessible if you've made further modifications. Remove the custom ad blocker rule(s) and the page will load as expected.