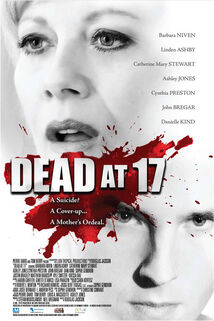 Story
When Cody (John Bregar) and Gabe Masterson (Justin Bradley) throw a private party in their father's retreat cabin, inviting their friends Jason (Matthew Raudsepp) & Ty (Kyle Switzer), they hire a stripper, but one thing turns to another and the stripper dies from being pushed down the stairs by Cody. Not wanting anybody to find out what happened, the boys dump her dead body and vow never to tell anybody about it.
But when Jason's guilty conscience gets the best of him and the Masterson brothers fear he'll tell, Jason winds up dead from an apparent suicide, but his mother, Alyssa (Barbara Niven) and older sister Danni (Dani Kind) suspect different and investigate the circumstances that ultimately led to his death.
Cast
Barbara Niven as Alyssa Harris
Dani Kind as Danni Harris
Matthew Raudsepp as Jason Harris
John Bregar as Cody Masterson
Justin Bradley as Gabe Masterson
Kyle Switzer as Ty
Ashley Jones as Becca
Catherine Mary Stewart as Holly
Linden Ashby as Curt Masterson
Sophie Gendron as Dominique Masterson
Ad blocker interference detected!
Wikia is a free-to-use site that makes money from advertising. We have a modified experience for viewers using ad blockers

Wikia is not accessible if you've made further modifications. Remove the custom ad blocker rule(s) and the page will load as expected.