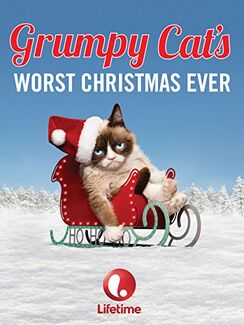 Story
Grumpy Cat is a lonely cat living in a mall pet shop. Because she never gets chosen by customers, she develops a sour outlook on life...until one day during the holidays, a very special 12-year-old girl named Chyrstal (Megan Charpentier) enters the pet store and falls in love with her after realizing she is the only person who can hear this unique cat talk.
As the two develop a close friendship during the holiday rush, Grumpy reluctantly thwarts the kidnapping of an exotic dog she dislikes and on Christmas Eve, she rescues Chyrstal after the mall closes. Through her adventures, will Grumpy learn the true meaning of Christmas? Or will it be, in her words, the "Worst. Christmas. Ever?"
Cast
Grumpy Cat as herself
Aubrey Plaza as the voice of Grumpy Cat
Megan Charpentier as Chrystal
Daniel Roebuck as George
Russell Peters as Santa
David Lewis as Marcus Crabtree
Evan Todd as Zack
Isaac Haig as Donny
Shauna Johannesen as Tabby
Casey Manderson as Jesse
Tyler Johnston as Gill Brockman
Ad blocker interference detected!
Wikia is a free-to-use site that makes money from advertising. We have a modified experience for viewers using ad blockers

Wikia is not accessible if you've made further modifications. Remove the custom ad blocker rule(s) and the page will load as expected.