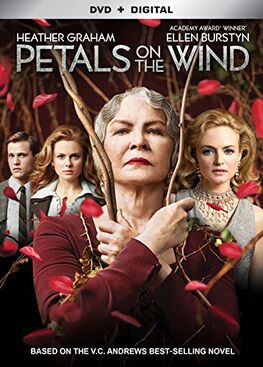 Story
1970 South Carolina. It's been ten years since the three surviving Dollanganger children - Christopher, Cathy and Carrie - escaped from the attic of Foxworth Hall in Virginia, where they were held captive for two years by their wealthy maternal grandmother Olivia Foxworth, who believed they were the spawn of the devil being the offspring of their parents' incestuous relationship, and their mother Corrine, who wanted to get them out of her life so that she could move on to a more lucrative one herself with younger lawyer Bart Winslow. Corrine did marry Bart, who did and still does not know of the children's existence. Olivia and Corrine were the only two people who knew the children were hidden in the attic. Dr. Paul Sheffield, the man who took them in as his own after their escape and provided a prosperous life for them, has just passed away, that prosperous life which includes a medical school education for Christopher, ballet lessons for aspiring ballerina Cathy, and private school for Carrie. But events in the attic, namely Cathy and Christopher only having each other's arms to fall into as they reached their sexual awakening, and their mother and grandmother's abusive treatment of them those two years, including Corrine secretly poisoning Carrie's twin brother Cory to death via tainted donuts, has had a profound effect on them. Christopher and Cathy have repressed those sexual, romantic feelings for each other for these ten years, those feelings which still exist and have grown stronger by their sheer denial. On Cathy's urging, she and Christopher try to move on with their individual lives with other romantic partners, which for Cathy is with fellow ballet dancer, the controlling and obsessive Julian Marquet in New York City, and for Christopher the naive Sarah Reeves, the daughter of his physician mentor. Carrie now is at a stage in her life where Cathy and Christopher were ten years ago sexually, and her sexual confusion is compounded by their grandmother's past taunting and being bullied at school. An incident involving Carrie, which brings to the surface a hidden mission that she has had all these years, leads to Cathy feeling like she needs to contact their mother and grandmother for the first time in over a decade to address their abuse, while she and Christopher examine and deal with their true feelings for each other.
Casts
Ad blocker interference detected!
Wikia is a free-to-use site that makes money from advertising. We have a modified experience for viewers using ad blockers

Wikia is not accessible if you've made further modifications. Remove the custom ad blocker rule(s) and the page will load as expected.