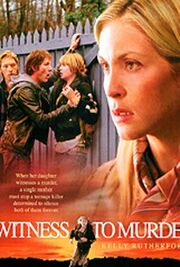 Story
After rebellious teen Samantha Cooper (Kirsten Prout) witnesses a murder committed by the police chief's son, Jordan Bates (Jesse Mott), she finds herself being threatened by him and his friends who will do anything to keep her from telling what happened.
Cast
Kirsten Prout as Samantha Cooper
Jesse Mott as Jordan Bates
Kelly Rutherford as Laura Cooper
Jesse Haddock as Derek Russell
David Allan Pearson as Gordon Russell
Eric Keenleyside as Chief Bates
Andrew Francis as Glenn
Andrea Whitburn as Tori
Eileen Barnett as Bunny
Samantha Ferris as Shawna
BJ Harris as Principal Myers
Aidan Kahn as Alex Mills
Stephen Spender as Officer Brady Thomas
Grace Bauer as Nancy Russell
Ad blocker interference detected!
Wikia is a free-to-use site that makes money from advertising. We have a modified experience for viewers using ad blockers

Wikia is not accessible if you've made further modifications. Remove the custom ad blocker rule(s) and the page will load as expected.