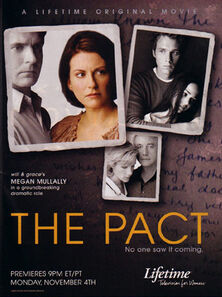 ​Story
Based on the book by author Jodi Picoult, the film is about a teenage girl named Emily Gold (Meghann Henderson) who enters a suicide pact with her boyfriend, Chris Harte (Eric Lively), but when Emily dies and Chris survives, their families' tight-knit relationship begins to fall apart especially when Chris faces criminal charges in Emily's death.
​Casts
Juliet Stevenson as Augusta "Gus" Harte
Bob Gunton as James Harte
Megan Mullally as Melanie Gold
Henry Czerny as Mitchell Gold
Eric Lively as Chris Harte
Meghann Henderson as Emily Gold
Jessica Steen as Detective Anne-Marie Marrone
Jackie Rosenbaum as the voice of Emily Gold
Ad blocker interference detected!
Wikia is a free-to-use site that makes money from advertising. We have a modified experience for viewers using ad blockers

Wikia is not accessible if you've made further modifications. Remove the custom ad blocker rule(s) and the page will load as expected.