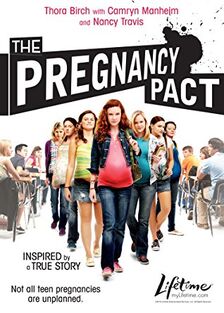 ​Story
Inspired by the events in Gloucester, Massachusetts (in which a group of teenage girls made a pact to get pregnant & raise their children together), the film centers on four teenage girls: Sara, Karissa, Iris & Rose who make a pact to get pregnant and a young woman (who attended high school in Gloucester) who returns to town to film a video blog about teen issues. The 2011 French film 17 Girls is based on the same events.
Casts
Thora Birch as Sidney Bloom
Madisen Beaty as Sara Dougan
David Clayton Rogers as Brady Leary
Max Ehrich as Jesse Moretti
James McCaffrey as Michael Dougan
Camryn Manheim a Nurse Kim Daly
Nancy Travis as Lorraine Dougan
Michelle DeFraites as Karissa
Jenna Leigh Hall as Iris
Kelly Heyer as Rose
Erin Frederic as Kathleen Kingsbury
Kelly Heyer as Rose
Tim Powell as Principal Bachman
Ben Winchell as Troy
Ad blocker interference detected!
Wikia is a free-to-use site that makes money from advertising. We have a modified experience for viewers using ad blockers

Wikia is not accessible if you've made further modifications. Remove the custom ad blocker rule(s) and the page will load as expected.