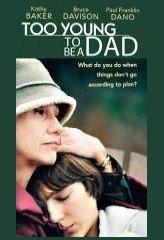 Story
When 15-year-old Matt Freeman gets 15-year-old Francesca Howell pregnant, their parents decide to put the unborn baby up for adoption.
Matt agrees to the decision, but he later begins to rethink it. This movie shows the father's point of view.
Cast
Paul Dano as Matt Freeman
Kathy Baker as Susan Freeman
Katie Stuart as Francesca Howell
Bruce Davison as Dan Freeman
Terra Vnesa as Alex Freeman
Nigel Bennett as Dr. Howell
Sherry Miller as Juliana Howell
Shadia Simmons as Blair
Ad blocker interference detected!
Wikia is a free-to-use site that makes money from advertising. We have a modified experience for viewers using ad blockers

Wikia is not accessible if you've made further modifications. Remove the custom ad blocker rule(s) and the page will load as expected.