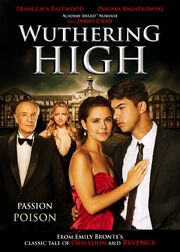 Story
Set as an updated 21st century version of the Emily Bronte novel "Wuthering Heights" set in modern day Malibu, California where the wealthy Earnshaw family adopts Heath (Andrew Jacobs), a troubled teenager.
The Earnshaw's teenage daughter, Cathy (Paloma Kwiatkowski), falls madly in love with him, embittering her rich friend, Eddie (Matthew Boehm) and the rest of their exclusive, upscale community. Wrapped up in her exciting fling, Cathy is ignorant to the dangerous side of Heath until it's too late.
Cast
Paloma Kwiatkowski as Cathy Earnshaw
Andrew Jacobs as Heath
Matthew Boehm as Eddie Linton
James Caan as Mr. Earnshaw
Sean Flynn as Lee Earnshaw
Francesca Eastwood as Ellen
Rachel Fox as Bella Linton
Randy Shelly as Kenneth
Ad blocker interference detected!
Wikia is a free-to-use site that makes money from advertising. We have a modified experience for viewers using ad blockers

Wikia is not accessible if you've made further modifications. Remove the custom ad blocker rule(s) and the page will load as expected.